ALL ABOUT LIP GLOSS BY PINK ELEPHANT COSMETICS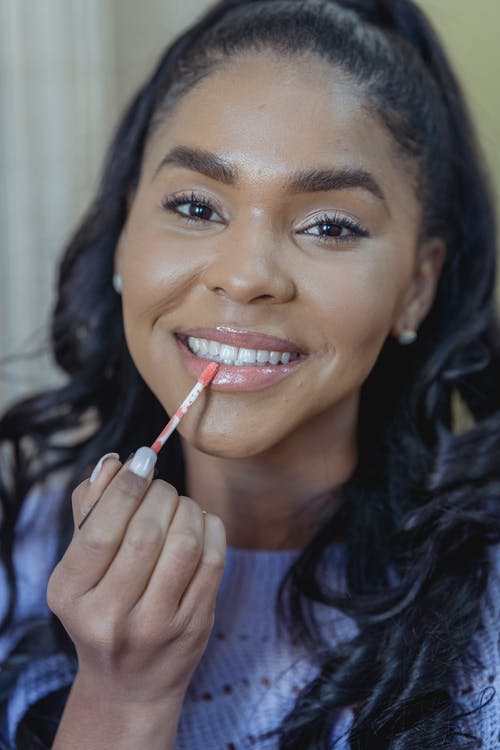 Beauty products and cosmetics are every girl's best friend because it doesn't just enhance their features but also may help them boost their confidence and look glamorous. And undoubtedly, a lip gloss can be that secret weapon.
Glosses come in an array of finishes, such as shiny or matte, nude or color, and in liquid form or as a cream. Pink Elephant Cosmetics Lip Glosses are five bold matte colors that compliment all skin tones. Glosses attract the eye to the lips immediately. When lips have color on them, they appear to be fuller and eye-catching. A matte finish looks for sophistication and flaunts a shade of illustrious color.
Lip glosses are known for being ultra-glossy and full of shimmer, but that isn't the only way they come. Lip glosses often provide a light wash of color or are clear, making them perfect for topping off a lipstick that packs a more colorful punch.
WHICH LIP GLOSS IS BEST?
We can't replace your smile and we wouldn't want to. But we can enhance it, thanks to our luscious, all-natural lip glosses. Filled with vitamin E oil and flavor oil to keep your lips feeling nourished, our lip gloss also comes with replenishing shots of shea butter extracts, which will help to protect your lips against the elements, as well as keep them bright and glossy. Better still, our gloss comes in 5 stunning, contrasting natural shades, so you can take your smile from bright to seductive, depending on your moods
Available in 5 natural shades and boosted by a shot of shea butter extract and replenishing organic oils, our lip glosses have been designed to add a little lustre to your smile and some bounce to your step. Our lip glosses are scented, cruelty-free and vegan with a size of 5.0 ml. Our 5 shades of natural lip glosses are:
They contain ingredients like shea butter, vitamin E oil, Flavor oil, tocopherol, parfum, among others. Regular price $12.00 Sale price $8.00 Sale.
BENEFITS OF LIP GLOSS
Always make sure to wear a gloss that is beneficial to your lips that provide not only color, if you want color, but the following is very important for healthy-looking lips.
1. Rich in nourishing vitamins
Shea butter is naturally rich in Vitamins A, E and F, which not only keeps the skin in optimal health but also protects it from free-radical damage. Shea butter is an incredible emollient, which means that it can form a barrier on the lips and help retain moisture in the skin - leaving your lips feeling supple and smooth.
2. A powerful moisturizer
Vitamin E is a well-known nutrient with a good reputation when it comes to lip care. As an incredibly versatile ingredient, vitamin E helps soften the lips. Evidence shows that Vitamin E boosts blood circulation and generates new skin cells, making your lips softer.
Our lips are vulnerable to environmental damage and climate change. The restorative power of Vitamin E can protect the lips by revitalizing skin cells and strengthening its natural defensive barrier.
3. Lip-saving fragrances
Flavor oils are lip-safe fragrances. They smell but do not taste. Flavor oils are used to scent your lips.
In addition to the standard benefits imparted by lip gloss, consumers can experience extra benefits they may not normally think to expect. Because the lips are a gateway into the body, formulators are devising new ways to benefit the body through them.
WHY LIPGLOSS IS BETTER THAN LIPSTICK?
Unlike lipsticks, which is a color paste, lip glosses are a liquid pop of color. Totally buildable and can be blended with lipstick. Some glosses have a shine and some come in a matte. Our glosses are distinct matte colors. They're bright and bold and also have the look of lipstick but has an arched felt tip for precise application. 
Lip glosses are so versatile, you can wear them without makeup, or wear them with your daily routine look, and even goes perfectly with a smoky eye look. YouTubers these days are trending their "lip gloss makeup look" showcasing glosses that are the essential product in your beauty routine.
HOW TO APPLY LIP GLOSS?
Thankfully, applying lip gloss is nowhere near as complicated as mastering lipstick or lip liner. You've got this! Whether your lip gloss of choice has a wand or comes in a tube, the application is the same. Start at the center of your lips, and work towards the outer edges of your pout. When there's enough product on your lips, rub them together to make sure the gloss is evenly distributed. Apply with the wand as desired and let your smile shine through, like a rainbow, caught by the sun on a cloudy day.
Warmest thoughts and best wishes for a Happy New Year from Pink Elephant Cosmetics!
|
Posted on January 02 2022